Join us on our freethinker discussion board and on facebook!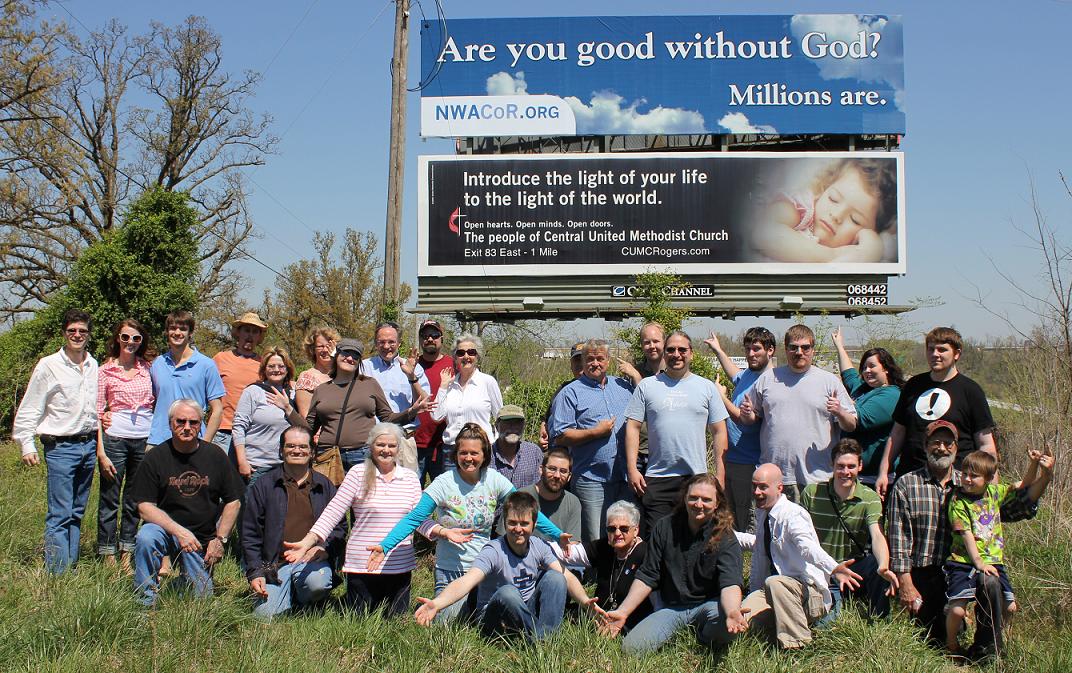 In April 2010, the Fayetteville Freethinkers teamed up with local freethinker groups and the Northwest Arkansas Coalition of Reason -- an arm of the United Coalition of Reason -- to bring a pro-freethinker billboard to Northwest Arkansas. It sat prominently alongside I-540 just north of Springdale through most of April and the first week of May. We also had signs on local buses. This generated lots of media coverage and interest in our groups. Read more about this in our forum here.

While the people in this picture include freethinkers from various NWA freethinker groups, realize that the 30 people above represent less than 7% of the freethinkers just on our Fayetteville Freethinker email list!
Fayetteville Freethinker Essentials
(Updated 10/5/15)

We are the Fayetteville Freethinkers, a loose knit skeptical club formed in Fayetteville Arkansas in 1998.

Our Fayetteville Freethinker meetings are typically held (except for July and December) on the last Saturday of each month at the Fayetteville library, at 2:00 pm. Our next meeting will be on Saturday, October 24. Information about upcoming and past meetings (including summaries and links) is posted in our forum here.

Scheduled meetings for 2015 are:

January 31
February 28 (snowed out!)
March 28
April 25
May 23
June --
July --
August 22
September 26
October 24
November 28
December -- no regular meeting; solstice dinner TBD
We had 21 people attend our September meeting.
We've changed our email system a little in order to adjust to having so many people on our email list. Most people will be unaffected by these changes but some email providers might mistake our meeting notice emails as spam. Here's what you need to know:
Previous list members have already been added to the new database.

To be added to the list, send an email to meetingnotices-subscribe@fayfreethinkers.com. Respond to the reply email as requested. (Your email address will not be shared or spammed.)

No matter how you were added, your email account settings might send our emails to your spam/junk folder. If our emails are not going to your inbox, check your spam/junk folder and click the options that set your account to accept emails from meetingnotices@fayfreethinkers.com and notices@fayfreethinkers.com (or it might be properly labeled as "Fayetteville Freethinkers").

Once you're sure our emails are hitting your inbox, you're done! You'll continue receiving our notices as usual. If you're still having trouble, let us know by emailing fayfreethinkers@yahoo.com.

If you would like to be removed from our mail list, send an email from the account to be removed to meetingnotices-unsubscribe@fayfreethinkers.com.
***
Here is a little of what has happened at past meetings:
At our August meeting the Fayetteville Freethinkers presented our local University of Arkansas freethinker group (Secular Student Alliance affiliate) the gift of two six foot banners that will come in handy at their events:


We conducted a three part Psychic Test with a reward of $10,000 as outlined here. Participants were to attempt to remote view and identify two things hidden in a sealed case: a word written on a card, and a distinct object of some sort. We had nine participants, five at the meeting, four attempts were sent in via email. There were six attempts to get the word and the written and verified submissions were as follows: "bicycle, goat, prevarication, fast, trout, Bullshit!" As was revealed to the audience when the case was opened by a library volunteer, the word on the card was: "Girls"
We had eight attempts to discern the object in the case. The eight submissions, written and verified, were: "Bible, bell, Bologna, shower head, magic wand, apple, White Knight (chess piece), toy car."
As was revealed to the audience when the case was opened, the object was a: "Shoe."
We also made available our telekinesis test: a ping pong ball under a glass dome. Move the ball one inch, receive $5,000. All attempts failed.
Information regarding our past meetings and future meetings can be read in our forum. Feel free to join the discussions in our forum.
We have no formal membership and do not keep track of names. To provide a suggestion or feedback about our literature, website, or to inquire about giving a presentation at one of our meetings, send us a note at fayfreethinkers@yahoo.com. If you have an idea for a presentation please remember to mention two things when you inquire: a little about the topic you would like to present on, and how long you estimate it will take. Powerpoint and sound is provided. Every email is carefully read and responded to by a trained Fayetteville Freethinker.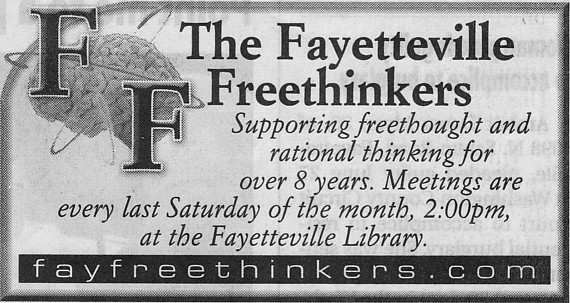 To get on our email list, send a request to: fayfreethinkers@yahoo.com